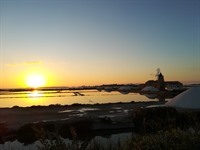 LO STAGNONE
A wide expanse of sea (over 2000 hectares), which extends into an inlet formed by the coast and a tongue of land that defends it from the open sea, with in the middle four small islands slightly outcropping (Santa Maria, Isola Lunga, Isola Schola, and Mozia): this is the Stagnone, that is that stretch of sea that from Punta d'Alga extends to Contrada Birgi-San Teodoro, and that since the most remote times was the scene of disputes but also of trade. Certainly it did not exist at the end of the Paleolithic when it is presumed that the islands of Mozia, Santa Maria, Schola and Isola Lunga were attached to the mainland and the geo-morphological condition of the area was different. But already in the historical age the Stagnone had the peculiar characteristics that it has today and already in the VIII century BC the Phoenician navigators discovered it and decided to found a trading station on Mozia.
Since then the Stagnone became part of history and enjoyed a special splendor, by the civilization that flourished on Mozia. In it atrocious battles were fought, strategists and great generals like Dionisio were bothered.
Today the most unmistakable aspect is that of its landscape remained intact in its natural and ecological elements. Here the visitor does not find only to enrich his cultural knowledge on the fantastic world of the Phoenicians, but also has the opportunity to find himself in contact with a green and uncontaminated nature, almost an oasis of tranquility. Along the coast of the Stagnone you can admire many active salt pans. The delimited basins for the collection of salt, the piles of white salt and covered with red tiles, the windmills working at the breath of the tramontana, as well as forming an evocative scenery, testify to a centuries-old activity that only in recent years has begun to be partially abandoned.